You've probably watched an influencer post a glowing selfie after their anti-wrinkle injections or read somewhere that they can help you turn back the clock. And now you're wondering what it would be like to try them yourself.
Anti-wrinkle injections are becoming increasingly popular as they provide a non-surgical way to reduce the appearance of wrinkles. It is, in fact, one of our favourite cosmetics treatments for newbies. But what do you need to know before taking the plunge?
What to expect with anti-wrinkle injections
The injections themselves are quick and relatively painless; they feel like a tiny pinprick and often only require five to six injections per treatment. Our specialists have also trained to make it as painless as possible.
The entire process takes about 15 minutes. After the injection, you won't be able to see any results for a few days; it can take up to a week for the anti-wrinkle injections to work. Depending on age and skin type, their effects will last three to nine months.
If you're going for a natural look, tell us! Your injector will make sure to leave some movement in your face, and no one will be able to tell what you've done. However, if you'd prefer a more dramatic and long-lasting effect, that's also possible – just be prepared to have regular maintenance treatments.
How do anti-wrinkle injections work?
Anti-wrinkle injections, also known as muscle relaxants, are a type of facial injection that use a protein derived from botulinum toxin to relax the muscles under the skin. They have a fascinating history and have now become a fantastic way to smooth the appearance of wrinkles.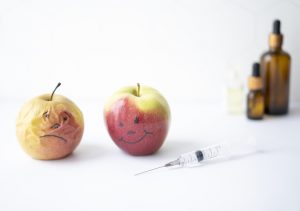 These muscle relaxants work by stopping the muscles from pulling the skin. It does this by blocking signals from the nerves to the muscles and preventing them from contracting. The less muscle contraction, the fewer skin movements. Fewer skin movements mean reduced skin folding that causes lines and wrinkles. Our specialists can further discuss how anti-wrinkle injections work with you if you have more questions.
Often there are several injections in one treatment. But don't worry. We will tell you how and where the injections will be administered, what type of product will be used, what your expected outcome might be and what side effects you could experience.
The effects will last anywhere from three to nine months. During this period, you should not feel anything, and your face will have natural-looking expressions. When the effects start wearing off, you will need to book another treatment.
Anti-wrinkle injections are most commonly used on the forehead, between the eyebrows, around the eyes (crow's feet) and on the chin to reduce movement. However, anti-wrinkle injections can also be used to reduce wrinkles in other areas of the face and neck. They can also soften or tighten and lift your jawline. You can also ask our doctors to administer injections in the neck if you're conscious about your platysmal bands. These are the vertical cords in our neck. As we age, they become more noticeable and can make us look older than we are. Anti-wrinkle injections can help soften them.
There are other ways anti-wrinkle injections can help you. Our doctors can explain them to you if you want to know more.
Please note that anti-wrinkle injections are different from dermal fillers. A dermal filler is used to fill in lines and restore lost volume, while an anti-wrinkle injection relaxes the underlying muscles. But these two can be used together to achieve more dramatic results. You will have a chance to chat with our specialist about what is the best combination for you. You can also read more about our well-loved Wrinkle-Free Program.
First-timers to anti-wrinkle injections: questions to ask
Before getting any kind of cosmetic treatment, ask yourself what you want to achieve and why. It's also important to do your research and ensure the person performing the injections is experienced and qualified, like our doctors and specialists. Make sure to ask what type of product they use and what their experience with similar treatments is.
There are two major brands in Australia that are approved by the Therapeutic Goods Administration (TGA). Our doctors will only use those brands in our clinic, so you can rest assured that what we offer is of the highest Australian standard.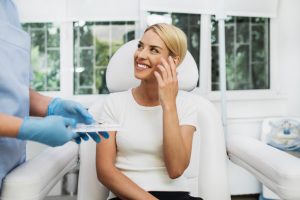 You should also ask what the expected outcome is and what side effects you could experience. While side effects depend on the person, they may include temporary bruising, redness and swelling at the injection sites.
You can copy these questions and bring your note on the day of your appointment:
Can anti-wrinkle injections go wrong?

Will they work?

As a first-timer, what can I expect? Are anti-wrinkle injections painful?

What do anti-wrinkle injections feel like?

How many injections do you think I need?

How long will this procedure take?

What should I do before and after treatment? What should you not do before anti-wrinkle injections?

Can I see in a mirror afterwards?

What will the treatment involve? Can you talk me through the procedure as you go?

How long does it take to see results from anti-wrinkle injections?

How long do results or how long will the effects last before needing re-treatment?

Are there any side effects or risks?

I'm nervous. Can I have a squeezy ball in my hand to distract me?
If you have any more questions or concerns, contact us. Our team is here to help. We're always happy to answer any questions and offer professional advice.
By understanding what to expect, what the procedure involves and what questions you should ask before getting anti-wrinkle injections, you can ensure the best possible outcome for your procedure.
Ready to try anti-wrinkle injections?