The Hydro Active Facial is a combination treatment involving microdermabrasion and a hydrating mask, which is already much more than a beauty facial can do. This dermatologist facial is a treatment for glowing skin like no other. 
A Hydro Active Facial is one of our favourite ways to achieve glowing, hydrated skin without downtime in one treatment. You don't need these treatments all the time – every couple of months is enough – and you can interchange the Hydro Active Facial with other dermatologist facial treatments such as the China Doll Facial. 
The Hydro Active Facial is around $200. The results are fantastic, particularly if you have a big event coming up where you need your skin to be glowing, dewy and looking fabulous for the camera. Hydro facials (as they are also known) leave regular beauty facials in the dust when it comes to performance. You just won't get the same results from a traditional beauty facial, and here's why. 
Why the Hydro Active Facial is so hydrating? 
We perform Hydro Active Facials using a special handpiece that uses a suction/vortex effect to remove dirt, oil, and dead skin cells from pores and hydrate the skin with special serums. 
The treatment takes a three-pronged approach, starting with a cleanse and a very gentle peel. The next step is gentle exfoliation and hydration using suction. The third element is to fuse and protect, to seal in the nutrients, antioxidants and peptides in the serum. 
The treatment is much more powerful than a hand-performed beauty facial, even though a light facial massage might feel lovely – it simply can't get into pores the way the HydraFacial device does unless you count painful manual extractions. 
Key features of the Hydro Active Facial include: 
Painless

Non-invasive

Deeply hydrating

Can treat all ages and complexions ( with the exception of highly acne prone skin) 

Boosts circulation

Stimulates lymph

Can have treatment during pregnancy and breastfeeding

Combine with some other treatments, i.e. injectables, China Doll 
We usually recommend this treatment once every few months as a skin booster for fresh skin. The treatment takes about 45 minutes, with instant rejuvenating results.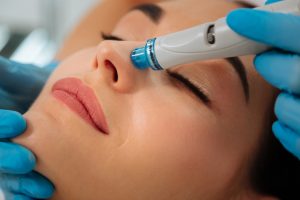 No more manual extractions
The treatment device uses a unique, patented Vortex-Fusion system to exfoliate, extract impurities from pores, and hydrate the skin. The best part about this device is that it suctions debris out of pores, so you don't need to undergo painful manual extractions as you would at the beauty parlour with a regular beauty facial. 
Skipping manual extractions by itself is worth it for us because, as you know, these horrible salon rites of passage are painful and inflammatory. The vortex dislodges and suctions away impurities effortlessly and without pain.
1 +1 =3 with a Hydro Active Facial
ENRICH Clinic in Melbourne is a huge fan of combining treatments to get better outcomes, with the 1 + 1 = 3 equation. Two complimentary facial treatments can have the same impact as three separate treatments. We love mixing treatments! 
A  study commissioned by the developers of the Hydro Active Facial device had these outcomes:
Hydro Active Facial combined with a blue LED light treatment showed that fortnightly HydraFacial treatments across 12 weeks that included blue LED light treatments could effectively treat and manage acne. 

Study investigators observed that skin looks healthier, more radiant, and clearer after treatments. 

Most investigators said the skin looked less oily and congested.

There was a 30 per cent reduction in brown spots when paired with IPL versus IPL alone.

The skin was twice as firm and smooth when the researchers paired the HydraFacial with non-ablative fractional laser or fractional radiofrequency versus non-ablative fractional laser or fractional RF alone.

The skin was twice as smooth when paired with RF or focused ultrasound treatments versus RF or focused ultrasound treatments alone.

Fifty per cent smoother skin when paired with an ablative fractional laser.
At ENRICH Clinic, we advise against Hydro Active Facial in severe active acne lesions or inflammatory acne cases.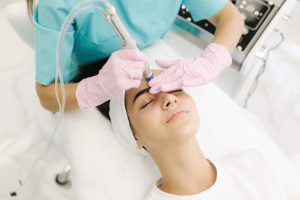 What is the China Doll Facial?
We love to switch and change up our facial treatments every so often, so if you're getting regular Hydr0 Active Facials, why not try the China Doll Facial every few treatments? The China Doll Facial is another form of deep cleansing of pores. The carbon serum acts differently but for a similar result: pores free of debris and microdermabrasion-like laser treatment. 
After the China Doll Facial, you can expect a refreshed complexion, a more even tone, and a refined texture. A China Doll Facial regularly can be a solid component of an anti-ageing plan. 
Your personal skin treatment plan
When you are a patient of ENRICH Clinic in Melbourne, you receive a skin assessment and a treatment plan that works to achieve your skin goals most effectively. Your treatment plan will be unique to you and evolve with you. The treatment plan will consider your skin's needs, personal preferences, and budget. 
Every month, having interchangeable facials is a fantastic way to keep your skin looking and feeling great without a massive commitment to your time or finances. The China Doll Facial and Hydro Active Facial are great regular treatment options between other treatments, such as chemical peels, or on their own. 
Get in touch to make an appointment!
ENRICH Clinic