This year will see us introduced to new ways of keeping skin beautiful, not only in the available range of skincare and makeup but also in how products and services are delivered. There are exciting times ahead for the cosmetic & beauty industry!  
There are advances in artificial intelligence and high-tech beauty/analysis devices, sustainability and zero waste-focused beauty products, and when it comes to style, more huge eyebrows and the 'natural look'. 
Oh, don't forget the new wave of subscriptions coming out of your bank account every month, as this is the new way to pay – and get cool new beauty stuff. Start-ups utilise our wishes to get new and exciting things in the mail, along with our staples. There's a lot going on. 
Beauty VR, AR and AI – try before you buy
One of the most significant barriers to investing in new beauty trends is our inability to try before we buy. Not everyone has access to makeup counters at department stores and the samples that come with them. In the post-pandemic landscape, the multi-user sample pot is now a dated practice that already feels quaint. 
The revolution coming to a mobile device near you is YouCam Makeup augmented reality (AR), where you can try makeup on before you buy it, making sure it suits you before investing not insignificant sums of money. Household brands to jump on the high-tech bandwagon include MAC, NARS and L'Oreal, and we can expect ongoing innovations.
What about skincare? 
We have a device by Skinceuticals at ENRICH Clinic that works with a mobile phone to take photos of pigment on your face.  Other skincare brands have created skin analysis tools, some that use computer vision to provide personalised skincare. 
It's only a matter of time before cosmetic dermatology becomes more digitalised; however, there are pluses and minuses with anything connected to your skin.  Always investigate treatments and topicals thoroughly, and still seeing a dermatologist face to face will always be better than relying totally on a VR. 
So fresh and so clean – natural beauty trumps
Beauty products have come a long way indeed, from times gone by when people made up their faces with on-trend substances, including white lead, mercury and belladonna. (For those of you who don't know what they are, these are poisons.) 
As fashions come and go, thick makeup is as passe as the cry-laugh emoji, with natural beauty dubbed 'skinamalism' trumping all. Eyebrows are still getting thicker and bushier, freckles are fashionable, and pigmentation (or lack thereof) can define "beautiful clear skin". Makeup should look like you're not wearing any, with a focus on accentuating natural beauty. 
We're demanding more from the beauty industry: clean, high-performing products in earth-friendly packaging manufactured using sustainable, socially responsible and cruelty-free methods. 
Whilst make up can enhance skin and cover issues, there is no substitute for good quality, well looked after skin.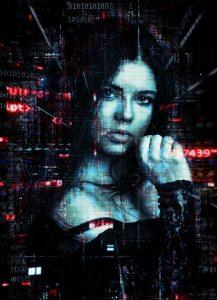 Getting the 'natural' look
As we all know, rolling out of bed looking fabulous is easy when you know-how. Wink! 
At ENRICH Clinic in Melbourne, we work with you to make the most of your natural features, maximising your superpowers and offering a boost where you want it. 
Our primary focus is on healthy skin, first and foremost, utilising outstanding skincare products; then, we focus on areas you'd like to improve. We make the most of your natural facial architecture, so you still look like yourself. 
Smoothing wrinkles 
Wrinkles and fine lines have yet to come on-trend, but you never know – we would never have guessed hairy armpits and daunting eyebrows would become trendy, so anything is possible. 
We use dermal fillers and anti-wrinkle injections to help soften and smooth wrinkles, creating a younger-looking complexion. We also use our state-of-the-art lasers, radiofrequency and ultrasound devices to improve collagen production, strengthening and tightening the skin. 
Removing brown spots
Pigmentation can start appearing as we age, creating a mottled appearance of the skin caused by excess melanin. We can clear pigmented spots using a variety of methods, from chemical peels to laser treatments. If your freckles don't make you feel beautiful, we can make light work of those, too; however, if you want to keep some of these beauty spots hanging around for style's sake, we can accommodate you. 
Nothing like a peel
At ENRICH Clinic, we highly recommend regular peels as part of your beauty routine. 
The glycolic peel has been around as a beauty tool for a long time, and thanks to ongoing advances in formulations, it is even more effective than before. It is also quick (treatment takes between 20-30mins) and can be performed regularly, so a great skin treat for those who are time-poor.
Ageing gracefully
'Ageing gracefully' used to mean ageing without desperately trying to turn back the clock with obvious plastic surgery and gone wrong cosmetic treatments. Since then, cosmetic dermatology has come a very long way, so you can now age gracefully while still making the most of modern technology and beauty innovations like injectables and lasers. 
With a personalised consultation, we can offer you an ongoing anti-ageing plan so you will look your best no matter your age. Looking good doesn't mean looking young, but it can mean incorporating treatments that take your skin back to how it looked a few years ago and keep it looking healthy. 
There are many ways we can beautify and maximise the skin you're in, so get in touch to arrange a personal consultation with one of our skin experts. 
ENRICH Clinic