Cellulite is one of the most common cosmetic complaints but one of the hardest to treat and keep at bay effectively. Lets be real. You can never entirely eliminate cellulite. You can only minimise, sometimes significantly, the appearance.
Dimpled skin casts shadows and creates the look of cellulite. Cellulite appears only in certain areas (thighs, buttocks) due to how fat cells are spaced out: fat is set into columns of fibrous tissue. Imagine city skyscrapers. 
Even with a solid exercise regime and eating well, cellulite can persist. Low body fat doesn't necessarily mean escaping cellulite either, as you can get 'skinny cellulite'. 
What causes cellulite? 
To understand how we treat cellulite, it can help to understand what causes cellulite. 
Cellulite appears when the fibrous connective tissues in the buttocks and legs stiffen and contract, resulting in the fatty tissue these columns contain bulging out. 
Once these connective tissues stiffen, they contribute to inhibiting lymphatic drainage, which contributes to the swollen and lumpy appearance of the skin.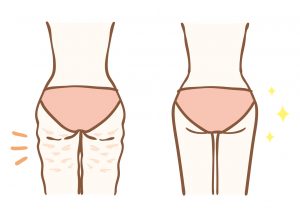 Contributing causes of cellulite include:
Advancing age (more rigid collagen fibres, skin laxity)

Increases in hormones such as oestrogen and insulin (increased stubborn fat storage)

Genetic factors

High carbohydrate diets (excess fat accumulation)

Smoking (inhibits blood flow)

Lack of exercise (poor muscle tone, inhibits the flow of lymph)

Sedentary lifestyle (inhibits the flow of lymph)
Ultimately anything that contributes to fluid retention and fat storage will also affect the appearance of cellulite. But, don't underestimate genetics; you might have inherited more than you bargained for from your mum. 
We know that cellulite is not entirely dependent on a person's weight. 'Skinny cellulite' will still occur if genes permit and a person has an unhealthy lifestyle. 
How to treat cellulite in legs, arms, buttocks and abdomen 
While there is no long-lasting treatment for cellulite, we offer targeted treatments that aim to smooth skin by reducing lumps, bumps and surface irregularities caused by fat distribution and storage. 
Our cellulite reduction treatments target cellulite-prone areas with combination treatments, including the Slimspec, aiming to increase fluid movement, soften fibrous columns and tighten skin. 
We offer a combination of wave therapy, diode treatments and skin-tightening that provide noticeable results. Repeat treatments are required.
Treating cellulite effectively is dependent upon the individual patient. We make a thorough assessment and decide which cellulite reduction treatments will work best for you while also offering advice for maintaining your results between treatments. 
Treating cellulite means understanding the interplay between the distribution of fatty deposits and skin laxity. Our CelluFix combination program includes treatments that stimulate the loosening of fibrous tissue and promote skin tightening – the key to help smoothing cellulite.
 Some common treatment combinations include:
Slimspec uses acoustic wave therapy to target the fibrous septae and fatty accumulations. Once we've stimulated connective tissues, metabolic activity and blood flow increase, assisting lymphatic drainage. The treatment also increases collagen production, which promotes skin-tightening and diminishes the appearance of cellulite. 
At ENRICH in Melbourne, we use the Secret, a high-tech micro-needling skin-tightening radiofrequency device. Micro-needling and radiofrequency increase collagen and elastin production to firm the treatment area while improving fluid clearance. 
The Venus Freeze reduces fat and stimulates the production of collagen, which over time tightens and firms skin. 
Benefits of cellulite treatments 
Minimal downtime

Comfortable treatments

Longer-lasting results when following an at-home maintenance program between treatments
Tips for longer-lasting results
While our acoustic wave therapies and radiofrequency treatments produce excellent results, at ENRICH in Melbourne, we also recommend an in-home management program to maintain your results. 
Home-care tips include:
Stay hydrated. Hydration is important to promote smooth, supple skin and keep your digestive and lymphatic systems moving.

Eat well. A diet high in carbohydrates, fat, salt, sugar and preservatives can promote retention of fluid, which can exacerbate cellulite

Lose weight. Not always as simple as it sounds, of course, but once you invest in cellulite treatments, even losing a little weight is worth it to achieve longevity in your treatment results

Weight training. Anything that stimulates blood flow and lymph movement, while promoting muscle size and shape, is ideal, such as squats and lunges
Contact us for cellulite treatments that get results. 
ENRICH Clinic