Becoming a dermatologist and fulfilling the strict requirements is no walk in the park – there's the first six years in regular medical training, plus being a junior doctor for on-the-job experience, then five more years of specialist skin, hair and nail training. Not everyone can be a dermatologist – acceptance is based on very strict requirements, and entry is very competitive.
While there is no 'hug a dermatologist day' to celebrate/commiserate a dermatologist spending their 20s or 30s in school, you can thank your dermatologist when you see them. Dermatology training is an immense commitment. Like any specialist doctor, training is intense, with long hours, steep requirements, and a lot to remember.
Why are we dermatologists?
There are a million reasons why a GP may choose to do further study and become a dermatologist, despite how long it takes and the stringent requirements. Not every doctor starts out medical school wanting to go on to be a dermatologist. In fact, many start out with many other dreams for their medical career and switch specialties during training.
In dermatology, there are many skin issues and diseases that will keep a doctor busy and you must have a passion for all things skin.  Yes, it does sound strange when you think of what's involved (pus, rashes, varicose veins, skin cancers), but it's very rewarding. Dermatology is a great specialist area for visual people since you can often have a clear picture initially of what's going on. Symptoms are more obvious than in some other disciplines.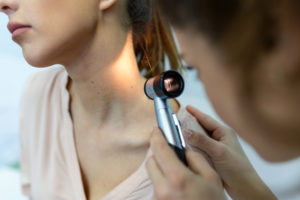 Cosmetic dermatology – what are the requirements and how long does it take?
There are plenty of research opportunities in skin, hair and nails that relate to many other medical practice specialty areas, including microbiology, immunology, and of course cosmetic medicine. Many dermatologists enjoy the cosmetic elements of dermatology since they aren't necessarily dealing with a skin disease all the time, but get to work small miracles with skin using some pretty high-tech state-of-the-art devices and treatments.
These small miracles help people feel better about themselves, which is very rewarding and not something that many other doctors get to bear witness to quite as often. This might include improving the appearance of facial scarring, using lip filler to improve lip movement in someone managing a speech impediment, or administering muscle relaxants to remove a deep groove in the forehead. Cosmetic medicine is not just about getting a better Insta selfie – it can deeply change, for the better, a person's perception of themselves.
Dermatologists get to know patients and their families very well over time. Typically patients will stick with a dermatologist they trust, like a family doctor, throughout their lives. Kids often show up with skin problems as their immune systems develop, so having a trusted professional who knows your family can be very comforting.
Being a cosmetic dermatologist – what we treat (based on your requirements)
People who visit ENRICH for cosmetic treatments typically don't want the crazy stuff you see in glossy magazines, beauty blogs or on the Kardashians' regular postings. Some people do, but mostly people want a small change that makes them feel good. These requests for small changes often come with a patient saying "I do NOT want to look like Kylie Jenner!". This might be filling out a pair of super thin lips (or one very thin lip), getting rid of under-eye bags that make a person feel a hundred years old, or making a bumpy nose a little smoother.
A cosmetic dermatologist is not about making people to fit in with fashion fads. Rather, we help balance out facial features or manage the unwanted signs of ageing that people don't want a bar of.
The worst parts of being a dermatologist
One of the pitfalls of being in dermatology, however, is that you are your own best (or worst) advertisement.  Also, at parties, people will start discussing their skin problems with you. It goes like this:
"Hi Michael, nice to meet you. What do you do?"
"Hi Kathy, nice to meet you too! I'm a dermatologist."
"Oh great, I've got this rash on my armpit that just won't go away; hang on, let me show you…"
Dermatologist don't just deal with the superficial. Sometimes, delivering bad news to people is part of the job. A dermatologist may have patients with skin cancers and other chronic diseases, which is always really hard news to pass on.
There are also skin problems that are quite visually tricky and at all times empathy is key to this profession.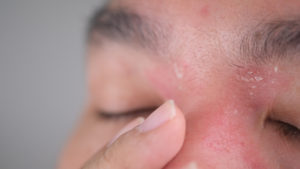 It takes a long time to become a dermatologist. Training and meeting the requirements takes a long time – sometimes over a decade – but the work is very rewarding. We love nothing more than supporting a patient through their journey with their skin, hair or nail health.
Dr Michael Rich is the founder and specialist dermatologist at ENRICH Clinic and has been a dermatologist for over 30 years. For more information on how long it takes to be a dermatologist, visit the Australasian College of Dermatology.
We are passionate dermatologists and love our work.
Contact our friendly clinic for a consultation to see how we can help you