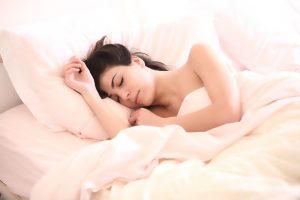 The number of times we've slipped into bed with a face full of makeup because we were too tired to take it off, or quickly used a makeup wipe… We aren't sure why it's so terrible, because nothing bad seems to happen.
So why aren't we allowed to sleep in makeup, besides ruining white pillowcases? We talk to a dermatologist to find out.
The important questions are:
Is sleeping in makeup bad for your skin?
Sleeping in makeup is bad for your skin because grime and dead skin cells from your entire day, plus your makeup, is still attached to your skin all night. This can result in a deep form of dehydration, since your makeup blocks your skin from access to moisture in the air. This means your skin is trying to 'breathe' though grime and dust and oil, plus your makeup which attracts those elements during your day. You can end up with pimples too, but the dehydration is the main issue.
What sort of makeup is the worst?
It makes a difference how much makeup you wear, however, so if you don't wear foundation, just eye makeup, the results are not as pronounced. It's the foundation layer that ultimately creates the extra layer that block your skin from being its true self, so if you wear a lot of concealer and foundation, you really do need to wash it off every night before bed. Bronzer and mascara are the second-worst culprits for creating ongoing problems – the mascara can make your eyelashes stick together and become brittle, and break.
Is wearing makeup to bed worse than wearing it at the gym?
Yes, by far. The gym means your skin is sweating, which is like a forced cleanse through the makeup. You can then clean your skin later on.
Are makeup wipes ok for nighttime cleansing?
Makeup wipes are for emergencies only or as the first stage of facial cleansing. Avoid face wipes where you can, since they can leave a film on your face that is irritating, stripping, and full of chemicals. Always cleanse your face using proper gentle cleanser designed for your skin type.
Confused about your skin?
Talk to a cosmetic dermatologist to see how we can improve your skin.