High-intensity focused ultrasound (HIFU) is considered no downtime, anti-ageing treatment for the face. HIFU is a cosmetic treatment that boosts collagen production and results in tightening deep beneath the skin to provide a visible lift to facial skin.
The HIFU Treatment
A HIFU facial at ENRICH is performed by our nurse practitioners using the Ultraformer III,  this high- intensity ultrasound device. We use HIFU on the face to achieve non-invasive facial tissue lifting and to improve skin texture and tone. One of our newer treatment options for non-surgical skin tightening, Ultraformer HIFU treatments result in an unmatched boost for sagging facial tissue.
With any treatment, there is always a certain risk & side effects.  It is important to read your consent and discuss it with your nurse practitioner so you understand all the details manage your expectations and understand the risk factors. You can expect some minor signs of inflammation at first, which means the treatment has worked. Deeper layers of collagen fibres are tightened, and collagen production is increased. The treatment results become much clearer at the three-month mark since collagen takes time to be naturally produced.
Ultraformer (HIFU) face treatment benefits
Visibly tighter facial skin
Smoother complexion
More even skin tone
Reduces visible signs of ageing
Increases skin elasticity
Brightens skin
Improves the appearance of scarring
Deep collagen tightened
New collagen production stimulated
Underlying facial muscles tightened
Safe treatment
Safety of the Ultraformer (HIFU) facials
With Ultraformer (HIFU) facial treatments – as with any treatment, there may be risks, and those risks are patient-dependent.  We will talk any risk issue through with you before your treatment.  You can expect some side effects immediately after a treatment, which should dissipate within 24-48 hours. You may experience:
Redness
Slight swelling
Tingling or minor discomfort during treatments (if necessary, eased with pain medication)
Some people experience tingling for a few days to a week after treatments
Rarely, bruising or numbness, which dissipates within days
Ultrasound energy-equipped multi-depth cartridges of the ULTRAFORMER Ⅲ only target specific layers of skin without damaging nearby tissue.
Best candidates for Ultraformer (HIFU) face treatments
Almost anyone can try an Ultrafomer (HIFU) face treatment at ENRICH, but some people cannot be treated due to the nature of this high-tech skin treatment. There are no barriers based on gender, skin colour, skin type or age. However, those with ageing skin tend to see the most obvious results.
People who can't get HIFU skin treatments include anyone with an active skin infection, open wounds or visible acne lesions in the treatment area. People with pacemakers or other electronic implants cannot undergo this type of treatment, and those who are pregnant are also excluded.
Results can also be less visible in those with extensive sun damage and people who smoke.
If you cannot naturally heal in a reasonable timeframe, HIFU may not be your best treatment. The skin must perform at a basic level to repair and regenerate.
What does HIFU do to the skin?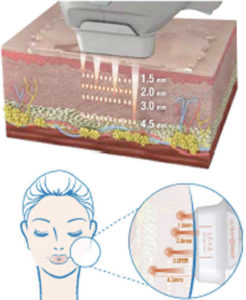 HIFU treatments work by applying high-energy ultrasound energy underneath the skin. The ultrasound works on deeper skin and collagen levels, without harming other tissue or the outer skin. This is one of the reasons HIFU treatments are so effective: they go deep, leaving untreated skin untouched. This is in comparison to other anti-ageing skin treatments, such as laser resurfacing or chemical peels, which act on the skin's surface.
The Ultraformer has four multi-depth cartridges directly transfer ultrasound energy into multiple layers of the face to trigger collagen renewal for a tighter, younger complexion.
Can Ultraformer HIFU treatments be performed on other areas of the body?
HIFU treatments can be applied anywhere on the body, with some outstanding results on cellulite, collagen production and skin tightening on the upper arms, thighs, knees, and abdomen. HIFU treatments work exactly the same wherever they are applied, tightening collagen and muscle for the overall tighter appearance of skin. Different areas can achieve different results, so its important to manage expectations. Loose skin after significant weight loss can be non-surgically tightened with HIFU treatments, especially for those who are not keen on the surgical removal of excess skin.
How often will I need Ultraformer (HIFU) face treatments?
Most people can start with one Ultraformer HIFU treatment to start with however, in some cases, two may be performed three or four months apart. For maintenance, treatments may be scheduled annually. However, the frequency will be determined by your cosmetic practitioner. At ENRICH, we have the mantra that 1 +1 =3, so two treatments reasonably close together will give you the benefit of three.
The Ultraformer ( HIFU) treatment is one of those treatments that you tend to see the full benefit months up the track. It is the nature of the treatment and the depth at which the ultrasound energy goes into the layers of the skin.
What does the research say about the safety of HIFU facial treatments?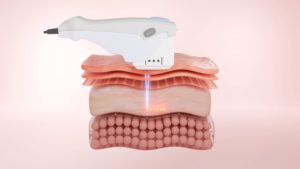 A 2015 study (Park et al) published in the Annals of Dermatology looked into how well the HIFU treatments worked and how satisfied the patients were after their treatments. The study was conducted on 20 Korean people with facial wrinkles and laxity (sagging) after just one treatment.
The study employed two independent clinicians to evaluate the results across seven areas of the face using before and after photos. Photos were taken once before the treatment, then immediately after, and at the three- and six-month marks.
Both the patients and the doctors had similar views on how well the treatment worked, with visible improvements to facial skin tightness noted. Most patients were very satisfied, particularly at the three-month mark.
The researchers observed that the most noticeable improvements were seen around the eyes, jawline and cheeks. The only adverse effects noted were redness and swelling in six of the 20 patients and two cases of blood spots and bruising. These effects were noted as mild and short-lived.
A 2016 study (Zandvakili et al) saw similar overall results across 25 Iranian patients. In this case, most physicians and patients rated the treatment results as 'normal' or 'good', with just one person saying the treatment was 'weak'. The researchers noted that HIFU was a safe and effective treatment for facial skin tightening, reducing the appearance of facial wrinkles, and improving skin tone and facial contours.
A 2012 study (Alster and Tanzi) published by the American Society for Dermatologic Surgery showed that HIFU is effective and safe to use for improving skin texture and contours on the knees, inner thighs and upper arms.
Try Ultraformer (HIFU) at ENRICH 
Contact our friendly staff for an appointment
ENRICH Clinic