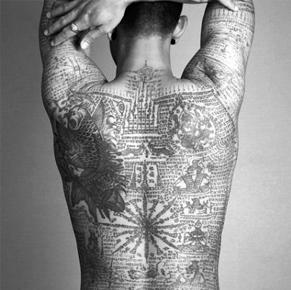 An inflammatory tattoo reaction is hypersensitivity in the area where a tattoo has been drawn on the skin, and can appear days, weeks, months, and even years later. 
Most tattoos are done on purpose – insoluble pigment is needled into the dermis in a pattern of our choosing (decoration, cosmetic tattoos, reconstructive tattoos) – but this isn't the only form of tattoo there is. Other tattoos can be caused by trauma, for example, dirt or gravel tattoos that cause the implantation of dirt or coal deeply under the skin. Another sort of tattoo is caused by medical treatments such as ferrous subsulfate (Monsel's solution), used to help stop bleeding or purposely placed for medical treatments like radiation.
A tattoo reaction can occur anytime a tattoo is created, and can appear despite other tattoos previously done not causing such a reaction. The normal reaction of skin to the injury a tattoo creates is for the skin to scab, crust and feel tender as the skin heals, which resolves within weeks. There may be itching, redness, swelling and tenderness; all normal responses that resolve.
Henna tattoos and allergic reactions
Henna tattoos are causing some significant allergic contact dermatitis reactions, which can appear from 24 hours up to two weeks after a henna tattoo has been applied. The allergen responsible is paraphenylenediamine (PPD), which is added to make the pigment darker and dry in a shorter amount of time. PPD cross-reacts with several substances, so anyone with allergies of any kind should double-check before using any henna product that includes these ingredients or is marketed as 'black henna'.
What an inflammatory tattoo reaction looks like
Delayed hypersensitivity reactions can occur weeks, months, or even years later. A tattoo reaction may appear with swollen nodules or plaques, a lichenoid reaction or an eczema-like rash on the tattoo site. After sun exposure, there may be itching or redness, typically with red and/or yellow pigments causing a photosensitive or photoallergic reaction. Lymph nodes may swell if tattoo pigments migrate to a node via the lymphatic system. Scaling, crusting and ulcers may appear.
This reaction can occur with any tattoo pigment and usually, the tattoo reaction occurs at the site of the tattoo, making it reasonably easy to detect.
Causes of inflammatory tattoo reactions
These reactions can be caused by a few different issues, with the first being infection. When an infection is needled deep into the skin, it can't get out, so develops deep underneath the skin. This also applies to fungus. Another issue is the foreign body response your body has to the pigments. Underlying this reaction is often an allergy or sensitivity reaction to a metallic substrate in the pigment, which is the most common cause of a reaction to a tattoo.
Some reactions in the past have been caused by red pigments that contained mercury, however, this is now a restricted pigment (mercury sulphide, cinnabar). Substitute reds, however, can also cause reactions (cadmium red or yellow). The metals are thought to be the main inflammatory suspect, also found in cobalt with blue, cadmium with both yellow and red, chromium with green and manganese with purple, while carbon (India ink) and iron oxide are common in black pigments.
Treatment for tattoo reactions
There are some medical options that range from steroids to laser treatments, however, each person's situation will be unique and depend on whether they want the tattoo to stay put. Microdermabrasion or another type of skin resurfacing may be the only suitable treatment, which would mean complete removal of the tattoo, which may have been a significant investment in time and money, and have great sentimental value.
We can treat inflammatory tattoo reactions.
Contact us