We define a dermatologist is an expert medical professional who works to diagnose, treat and prevent skin, hair and nail conditions. A cosmetic dermatologist specialises in the aesthetics of the skin, and may work on anti-ageing and beautifying skin.
In Australia, you need a referral from your regular doctor to see a dermatologist, but you do not need a referral for cosmetic dermatology appointments. Many costs may be partially or fully covered by medicare or private health insurance for referred medical treatments, however cosmetic treatments are paid privately, with some exceptions.
Dermatologist qualifications – how do we define a dermatologist?
Dermatologists in Australia complete a six-year medical degree, which requires another several years of full-time training and practice as a hospital junior. Then, a doctor must complete four years of specialist training to become qualified as a dermatologist and complete their dermatologist qualifications.
The Australiasian College of Dermatologists is the only accredited provider of this specialist training and dermatologist qualifications. This College is the only provider who can define 'dermatologist' legally in Australia.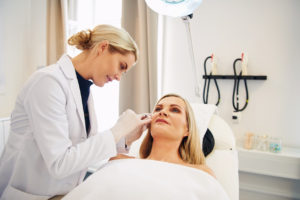 Define dermatologist – what does a dermatologist do?
Because the skin is the largest organ of the human body, many complaints taken to a doctor are skin-related. Your regular doctor can deal with many minor skin complaints, but a referral may be required if the problem is beyond their scope of practice or ability to diagnose or treat you. This is the domain of the dermatologist.
Define a dermatologist – who does a dermatologist with the correct qualifications treat?
Dermatologists treat everyone, from babies to the elderly, for all skin conditions. In Australia, sunspots and skin cancers may play a large part in clinical practice due to our lack of ozone and our love of the outdoors.
Common conditions a dermatologist treats include:
Define a dermatologist – what treatments do dermatologists use?
The treatment you are offered will depend on the problem you present with, but dermatologists have a wide range of tools at their disposal to treat various conditions. This includes lasers, light and wave-based devices, and creams, ointments and drugs.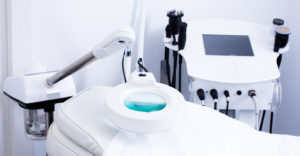 Define a dermatologist – Does a cosmetic dermatologist need extra dermatologist qualifications?
While a cosmetic dermatologist is the same as a regular dermatologist, their private practice includes what's known as aesthetic medicine. A cosmetic dermatologist also treats the regular set of issues of skin, hair and nails, but has an interest in cosmetic outcomes too.
'Cosmetic' means the look, or aesthetics, of something, but this doesn't mean cosmetic dermatology is overly focused on 'superficial beauty'. Being able to put your best face forward to the world matters, and to some people this means treating parts of their face or body the same way we might get braces.
A cosmetic dermatologist has the expertise and equipment to solve sometimes embarrassing or uncomfortable issues that may affect our day-to-day life. This includes scarring, pigmentation, and the shape of our faces after surgery or trauma. The realm of the cosmetic dermatologist is wide and varied, and helps people feel good about themselves in some way, big or small.
A dermatologist performing cosmetic procedures is trained in the treatments they apply.
Define a dermatologist – a cosmetic dermatologist may perform:
Non-surgical nose or facial augmentation
Surgical nose or facial augmentation (depending on training)
Anti-ageing treatments such as dermal fillers or anti-wrinkle injections
Laser and light/wave-based treatments to improve skin quality
Treatments for skin tone or texture
Removal of visible blood vessels around the nose or cheeks
Removal or fading of scarring or pigmentation/birthmarks
Hair regrowth strategies after hair loss in men and women
Reducing the appearance of cellulite
Fat-removal treatments such as liposuction, fat freezing or fat dissolving injections
Laser hair removal
Laser tattoo removal
Skin tightening
Vulvovaginal or penile treatments – treatments for intimate menopausal symptoms and stress urinary incontinence, papule removal
Cosmetic dermatologists have a huge range of state-of-the-art technology in their clinics, and are well-placed to treat the aesthetics of skin, hair and nails. At ENRICH, Dr Michael Rich and his team are dedicated dermatologists and doctors, treating all dermatological conditions and providing cosmetic dermatology services.
The ENRICH team of highly-qualified, specialist dermatologists and doctors are experienced professionals.
The team at ENRICH consists of dermatologists and specialistic cosmetic doctors each with their own special interests:
Dr Michael Rich, founder and director of the ENRICH Clinic, is a dermatologist specialising in dermatology and cosmetic dermatology and surgery.
As a highly regarded liposuction specialist, Dr Rich has chaired  for number of years, the liposuction symposium for the Australian College of Cosmetic Surgery.
Dr Auyeng has completed specialist training in clinical immunology, allergy and immunopathology, and is ENRICH's allergy expert. Think hayfever, hives and eczema, and mast-cell disorders, this is where Dr Auyeng can help.
Dr Milone is a practising GP and cosmetic practitioner with a special interest in sweat disorders, skin rejuvenation techniques and cosmetic treatments. As a highly skilled injector, Dr Milone focuses on injecting techniques that minimise patient discomfort and give the most natural outcome.
Dr Mazhar is one of ENRICH's cosmetic facial treatment experts, with a keen interest in and a knack for lasers, injectable anti-ageing treatments and other cosmetic treatments. Dr Mazhar firmly believes that every face is beautiful and that this beauty can be enhanced, not created.
Dr Lena Ly is passionate about Dermatology. Dr Ly's areas of interest include eczema in children and adults, allergies, hair, nails, skin cancer and sweating disorders.
We have a dermatologist or cosmetic doctor that could help you 
Contact ENRICH to make an appointment with our specialists today