An Erbium laser facial is a gentle process of resurfacing the skin, thus refining texture, reducing pigmentation and revitalising the complexion. We use this laser alone or with other supportive cosmetic treatments to get the most out of your skin. 
The Erbium laser is a mild to moderate strength treatment, with a light recovery and minimal downtime. The procedure is exfoliating, taking off the top layer of the skin, revealing a fresh new layer. 
The laser vapourises just the topmost skin cells, as it is attracted to the water in the cells. The Erbium laser is different to other lasers in this way, with other lasers attracted to wavelengths/colours, such as red (blood vessels) or brown (pigmentation). 
The Erbium seeks out water and turns it into vapour, taking with it any skin cells, including those that contain pigmentation. The treated cells flake off as collagen production ramps up, resulting in firmer, refreshed skin. 
Reasons we use the Erbium YAG laser
We use the Erbium laser treatment for skin conditions such as sun damage, pigmentation, uneven texture or tone, and post-inflammatory pigmentation (such as can occur after a wound or acne). We love the Erbium for outstanding overall rejuvenation of facial skin. 
We also use Erbium laser resurfacing for acne and other virus-driven scars (smallpox, cold sores), mild to moderate facial wrinkles, seborrhoeic keratosis, benign skin growths, superficial non-melanoma skin cancers and some birthmarks. We love the Erbium laser for its microdermabrasion capabilities.
How does the laser work?
The Erbium laser is set to 2940 nm, with this laser very closely aligned with water in the skin. As soon as the laser's energy hits the skin, it is absorbed by the water and not much else, so there is no damage to nearby skin cells. The water vapour has a cooling effect on the treated skin, allowing several passes over the same area, which isn't always possible with other lasers. 
We typically use the Erbium laser at a quite shallow setting to minimise downtime for laser skin treatment. However, if we increase its energy setting, we can achieve deeper penetration and more significant results. Deeper treatments come with an increase in recovery time.
How long does the Erbium laser skin treatment take, and what can I expect? 
A lighter Erbium laser treatment takes about half an hour per treatment area and feels like a rubber band pinging against the skin – very tolerable for our patients. Our machine provides cool air to the treatment area to stop it from getting too warm, but the effect is thermal. You'll feel a little sunburnt afterwards, but this will dissipate across the day. We'll provide a soothing balm post-treatment. 
Erbium facials run at different depths, determining how comfortable the procedure is. Your comfort is our top priority, and we'll do all we can to ensure you're happy during treatment. 
There is also a heavier Erbium laser resurfacing treatment which can take up to an hour and often requires a local anaesthetic. After this treatment, the skin is likely to flake and peel, which is part of the process. Do not pick your face! The peeling can last a few days, so bear with and enjoy your fresh complexion when it emerges. We will provide you with care instructions after your treatment, but expect some peeling and be prepared to apply cream or ointment to facilitate healing. 
Everyone responds a little differently in terms of how much peeling there is and how long it takes to all come off, but you can expect your skin to be clear within a week or so.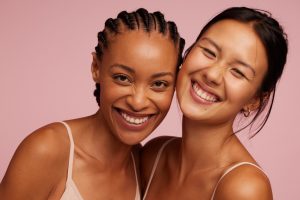 Who is best suited to Erbium laser resurfacing?
If you have fair skin, sun damage or pigmented areas of skin, the Erbium may be an the choice for you. 
There are several reasons why the Erbium YAG facial will not be appropriate for you, so please contact our staff if you have underlying skin conditions, are pregnant or breastfeeding, or are on any medication. 
Erbium facials work well on darker skin tones.
Darker skin tones can benefit from Erbium laser facials since the water in the skin is being targeted, not a specific colour such as red or brown. As a result, we can usually successfully rejuvenate darker skin tones using the Erbium YAG. 
How to book an Erbium YAG facial at ENRICH, Melbourne
To book an appointment for an Erbium laser facial, book online or give our friendly Melbourne staff a call to ask any questions. If you're not sure if the Erbium is the right choice, we can help with a consultation to determine the best treatment for your individual needs. 
ENRICH Clinic