You're having flare-ups, but you think you're too old to have acne. Or are you?
There are many myths surrounding adult acne. And it's risky to self-diagnose and treat it without the help of a qualified dermatologist.
So we'll distinguish between the myths and the facts and explain adult acne in detail. We'll also provide some useful tips on how to treat adult acne.
The tales
Myth 1: Only teenagers get acne
Adult acne is quite common, especially among women. While the exact number is yet unknown, a study claimed adult acne affects about 85 per cent of women. Another said it's from 43 to 69 per cent. Whatever the number is, adult acne is real, and you're not alone in experiencing it.
Acne occurs when the pores of your skin become blocked with oil, dead skin cells, or bacteria. When this happens, you may notice pimples or blackheads. It doesn't matter how old you are — if your pores are blocked, you can get acne.
Myth 2: You can treat adult acne with the same treatments that work for teenage acne
Adult acne is different from teenage acne in several ways.
For one thing, your skin is much more sensitive than when you were a teenager (link to What happens to your skin when you age). This means adult acne treatments need to be gentler and less irritating.
Myth 3: Vitamins and supplements are enough to cure acne
Vitamins and supplements may help to improve your overall skin health. But they're not a cure for acne, especially if you've had it for a long time. Don't believe anyone who tells you they have a "miracle" acne cure or any hype you see on social media.
Myth 4: Acne is caused by bad hygiene
Adult acne is not caused by dirt, poor hygiene, or not washing your face enough. In fact, over-washing your face can actually make acne worse.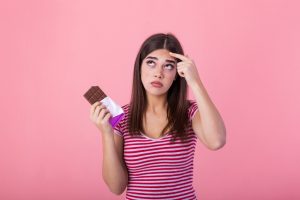 It is caused by a combination of factors. You can do everything right in terms of hygiene and still get acne.
Myth 5: Chocolates cause acne
This is a myth that's been around for a long time. But there's no scientific evidence to support it.
Acne is not caused by what you eat. However, certain foods can make acne worse. These include dairy products, processed foods, and sugar. If you have acne, you may want to avoid these foods to see if it makes a difference. Also, a type of diet can be a culprit but not the food per se.
The truth: What really causes acne breakouts in adults?
Hormones
One of the most common causes of adult acne is hormonal imbalance. This includes changes in your body's hormone levels and taking medications containing hormones.
For example, acne is common in women during puberty, pregnancy, menopause, and perimenopause (the years leading up to menopause). This is because of the changes in hormone levels that these life stages bring.
Acne is also common in women who are taking birth control pills, as well as men who are taking testosterone supplements. This is because these medications contain hormones that can trigger acne breakouts.
Stress
Another common cause of adult acne is stress. When you're stressed, your body produces a hormone called cortisol. Cortisol can increase oil production in your skin, leading to clogged pores and acne breakouts.
Also, a stressed skin barrier is more likely to become inflamed, which can make acne worse.
Certain medications
Certain medications can cause acne breakouts as a side effect. These include steroids, anti-seizure medications, and lithium (a medication used to treat bipolar disorder).
Family history
Acne is partly determined by your genes. HealthDirect says you're more likely to develop acne if you have a family history of acne.
Medical condition
Some medical conditions that can cause acne are polycystic ovary syndrome (PCOS) and adrenal gland disorders. PCOS is a hormonal disorder that can cause irregular periods, excess hair growth, and acne. Adrenal gland disorders are rare conditions that affect how your body produces hormones.
These conditions cause acne because of the changes they cause in your hormone levels.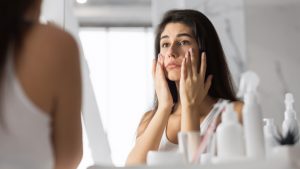 Skincare products used incorrectly
Acne can also be caused by how you care for your skin. For example, if you use products that are too harsh for your skin, they can strip away your skin's natural oils. This can lead to dryness, irritation, and inflammation — all of which can worsen acne.
In addition, If you don't wash your face after exercising, the sweat and bacteria on your skin can clog your pores and lead to breakouts.
The treatment: How do you fix adult acne?
Acne can be a frustrating and embarrassing problem. But there are treatments available that can help.
Change your diet
One way to treat adult acne is to change your diet. High GI diets and insulin have been found to cause acne indirectly. These foods can cause inflammation and make acne worse.
In addition, you should eat plenty of fruits, vegetables, and whole grains. These foods are packed with nutrients that can help fight inflammation and improve skin health.
Manage stress
Stress can make acne worse. So, it's important to find ways to manage your stress. This might include exercise, yoga, meditation, and deep breathing.
Use skincare products that are gentle on your skin
When it comes to skincare, less is more. That's because harsh skincare products can strip away your skin's natural oils, leading to dryness, irritation, and inflammation.
Instead, use gentle, non-abrasive cleansers and moisturizers. These products will help keep your skin healthy without causing irritation.
See a dermatologist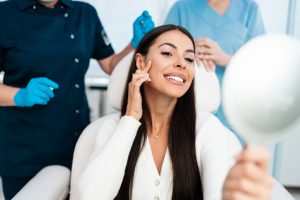 The best way to treat adult acne is to see a qualified dermatologist. If your acne is severe or doesn't respond to home treatment, don't hesitate to make an appointment with us. Self-treatment may only make your flare-ups worse!
Our dermatologists can prescribe medications that can help clear up your acne. These might include oral contraceptives, antibiotics, and retinoids. In addition, they can provide expert advice on how to care for your skin.
They can also recommend treatments such as microdermabrasion and laser therapy. Both of these are proven ways to help remove dead skin cells and rejuvenate your skin.
If you have acne scarring, our doctors can also recommend treatments that can help reduce the appearance of scars.
Adult Acne Treatment at Enrich Clinic
Adult acne is common, but so are the misconceptions about it. For expert guidance, contact our specialist dermatologist.