The China Doll laser facial, also known as a carbon laser peel, has smoke, it's got drama, it's got beautiful results!
The carbon laser facial is one of those treatments that gives you instantly glowing skin, but the China Doll facial has more up its sleeve than just a pretty face. The carbon laser peel is a therapeutic skin treatment that can, over multiple treatments, make a dent in some serious skin conditions like acne.
Why you'll love the China Doll facial
No downtime – lunchtime pamper time!
Ideal for newbies to cosmetic treatments
Great for before a big event or big night out – won't leave marks on your face, just beautiful skin
Improves skin texture and tone
Reduces oiliness
Reduces the appearance of large pores
Removes blackheads and deeply cleanses pores
Removes dead skin and impurities
Increases thickness of the dermal barrier
Stimulates collagen and elastin
How does the carbon laser peel work?
First up, the skin is cleansed, and a gentle pass with our PiQ04 laser is taken across the skin surface.
A carbon laser peel requires a thin layer of carbon serum which applied next up, to the face.
The carbon mask then has ENRICH's unique PiQ04 picosecond laser applied to it.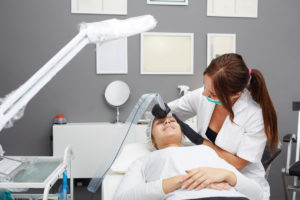 The overall treatment is still a laser treatment – with ENRICH it's the picosecond laser, unique to China Doll laser facials in Australia – but the carbon serum acts as what's known as a photo enhancer. This amplifies the effect of the treatment, increasing its potency.
The carbon particles absorb debris and oils in the skin; then the laser beam is attracted to the blackness of the carbon. As the laser hits the carbon, the carbon explodes (gently!).
This explosion removes the outer layer of dead skin, sucking the dirt out of pores and promoting a glowing complexion.
The science behind the carbon laser peel
It can be easy to get swept up in marketing jargon when it comes to trendy new facial treatments. We've done our best to demystify the China Doll facial, so you know exactly what to expect – based on scientific research and our own clinical experience.
We love the China Doll facial at ENRICH, and we think you will too!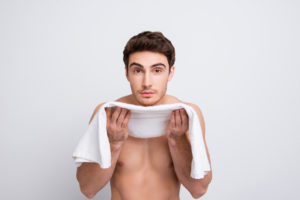 How many treatments are required?
The carbon laser facial can be a standalone clarifying treatment, but it's also proved itself as a therapeutic treatment used over time. The carbon laser facial can be used every 2-4 weeks to improve skin quality, tone, texture, and to treat skin problems like acne.
The treatments need to be done at spaced intervals to allow the skin to repair itself and start the process of collagen production. Once a course of treatments has been completed, a treatment every 1-3 months is likely to maintain the results.
Side-effects of the China Doll facial
One of the drawcards of the carbon laser peel is that there is no discomfort and no downtime. Because we are treating areas that contain hair follicles, some hair removal and hair lightening may occur.
During treatments, you'll feel some warmth and tingling as the carbon is treated with the laser, from the tiny explosions. You may experience some tingling or slight redness for a few hours after your treatment, but this will disappear.
Why the PiQ04 is a spectacular laser for the carbon laser facial
ENRICH uses a picosecond laser for carbon laser facials. The benefits of using the picosecond laser include faster, stronger laser pulses that penetrate deeper. This produces an overall better treatment in less time than other types of lasers.
How is a China Doll treatment performed?
Your skin is thoroughly cleansed
A gentle pass is applied to the skin with our PiQ04 laser
A thin layer of medical grade carbon serum is applied to the skin – this is the photo enhancer that seeps into your pores
The picosecond laser beam is applied to the skin, is attracted to the carbon and blasts it apart taking with it dirt, oil, dead skin cells and other debris, while also tightening pores
Another rejuvenating pass is applied to the skin with the laser at a different setting
We cleanse and nourish your skin with special skincare products; then you're done!
Who gets great results from the China Doll facial?
Any age or skin type
Those with skin laxity
Anyone with active acne
Those preparing for a special occasion
Anyone looking to pamper themselves!
A quick look at the science & studies behind the carbon serum & the China Doll facial *
Carbon laser facial for reducing the appearance of enlarged pores – it works! (Chung et al 2011)
Researchers looked at reducing enlarged facial pores in Asian women. The study was to compare using just a laser treatment, and using a laser treatment with the added carbon serum that characterises the carbon laser facial.
The study included 25 Asian women aged 20-40, who all underwent carbon laser facial treatments. One side of the face was treated with the laser and the other side of the face treated with the laser and carbon serum. There was just one treatment.
After just three weeks, 75 per cent of the study participants showed improvements on the carbon serum and laser side of the face, compared to 67 per cent showing improvement in the laser-only side of the face.
Teenage girl with cystic acne significantly improves (Calderhead 2011)
A 14-year-old girl with severe cystic acne across her cheeks and chin was treated with regular carbon laser facials. She was given six laser treatments using the carbon serum, two weeks apart.
By the fourth treatment, significant improvements were observed, and by the sixth treatment, over 90 per cent of her inflammatory acne had been visibly cleared.
Eight weeks after the last treatment, lasting improvements were seen. The general skin condition was much improved, with pores, sebum production and red spots all reduced.
Pigmentation spots in older Japanese women treated with carbon serum and IPL (Kawasaki and Kawana 2014)
Three older Japanese women (aged 58, 78 and 85) with specially selected pigmentation spots underwent a treatment using carbon serum and intense pulsed light (IPL) treatment.
There were solid improvements in the pigmented areas compared with non-treated pigmented lesions. Treatments were well tolerated with minimal side effects.
*note: these are studies. Every patient's journey, results and treatment is unique.
The China Doll Facial – an ENRICH Clinic  favourite
The China Doll treatment is absolutely one of our teams' favourites. ENRICH Clinic is one of the only clinics in Melbourne to perform this treatment, and we are definite devotees.  No downtime, clean glowing skin and rejuvenation, who wouldn't be?
We are skin experts.
Contact us today to see what we can do for you