Hair falls out for many reasons; perhaps your thyroid is suffering, you've just given birth, your iron levels are too low, or indeed you are experiencing pattern baldness that you've long been expecting. 
Men and women both experience hair loss, sometimes for the same reasons and sometimes not, so working out why your hair is falling out is an important first step to course-correcting. 
Hair may fall out slowly or in clumps, offering clues as to what's going on in your body, so don't ignore hair loss and hope it'll stop or go away by itself; it may get worse and worse, causing irreparable damage to hair follicles. Treatment is easier and more effective during early hair loss.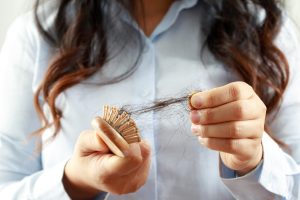 Make an appointment with a specialist hair loss dermatologist now
Hair loss is frequently a long-lasting state, so the earlier you catch it, the more effectively you can interrupt the process causing the hair to fall out. Book in with a specialist hair loss dermatology clinic like ENRICH Clinic in Melbourne sooner rather than later to be assessed. 
It can be easy to be in denial about hair loss – it usually occurs slowly, so it isn't dramatic and doesn't spur you on to action when you're pretending it isn't happening. When you first notice hair falling out, it is the right time to try to stop hair loss in its tracks, preserve follicles, or undergo treatment for a medical condition.
Not all hair loss is challenging to reverse; for example, pregnancy-related female hair loss isn't the same as male pattern baldness. The hair loss after giving birth is related to the drop in oestrogen, while male pattern baldness is related to an abundance of a specific type of testosterone, which harms head-hair follicles (but paradoxically can contribute to extra facial and body hair growth).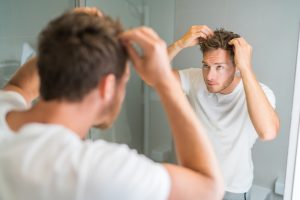 Hair growth treatments for men and women – Melbourne
There are several treatments for hair loss, with a combination of treatments usually applied to a patient depending on their hair loss circumstances. 
Some hair regrowth treatments include: 
Platelet-rich plasma (PRP)

hair treatment

Minoxidil hair cream

Hormone therapies

Hair transplants (which we do not perform at ENRICH Clinic)
Understanding PRP for hair loss in men and women
PRP is a treatment for hair loss that involves first drawing blood, separating the plasma and platelets, and then injecting the platelet-rich plasma into a particular site on the body, in this case, the scalp. 
PRP has an excellent track record and some solid science behind it for many medical treatments involving healing or rebuilding tissue, such as wound healing. However, individual results vary for PRP hair regrowth, and patients usually require more than one treatment for the best results. 
What is PRP?
The platelets in PRP are activated and release numerous growth factors: blood vessel growth factors, skin cell growth factors, and other important cell stimulating properties. The growth factors released from the platelets act on stem cells in the bulge area (base) of follicles, encouraging the development of and promoting blood supply to new follicles. The result is a new, healthy hair follicle growing a strong hair. 
After PRP treatments, patient satisfaction is very high, and researchers believe that PRP could replace some other standard hair-loss treatments. 
PRP is a low-risk, effective treatment for alopecia areata, an autoimmune disorder characterised by sudden patchy hair loss across the body. Alopecia areata is a complex condition with no cure.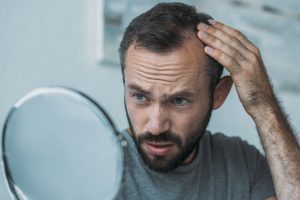 What is Minoxidil hair cream?
We first heard of Minoxidil as a medication for high blood pressure, with a 'side effect' of extra hair growth (hypertrichosis). This discovery led to the hair cream being developed as a male and female pattern baldness treatment with scientific backing. 
Topical minoxidil hair cream is one of the leading hair regrowth treatments for men and women with androgenic alopecia, hair loss caused by androgens. It is still not clearly understood exactly how minoxidil works, but it works well for many suffering hair loss. 
The combinaton of Minoxidil and PRP
With these two mainstay treatments, we can not only encourage new hair follicles to develop and produce a hair, but we can interrupt the process that caused the hair loss in the first place in pattern baldness – the effect of androgens on the hair follicle. 
The combination of treatments results in a scenario where follicles have the best chance of surviving and keeping hair on the head. 
Other causes of hair loss
Hormonal changes (pregnancy, childbirth, menopause)

Medical conditions (thyroid, nutrient deficiencies)

Hair-pulling disorder (trichotillomania)

Scalp infections (ringworm)

Medication (for cancer, arthritis, depression, cardiovascular disease, gout, high blood pressure)

Radiation therapy to the scalp

Stress and emotional shock

Hair treatments and certain hairstyles that pull on the hair
How to get help for hair loss in men and women
Because the same underlying mechanisms drive not all hair loss, it's important to be thoroughly assessed before jumping to any conclusions about your hair loss. Make an appointment with a specialist at ENRICH Clinic, and we'll carefully work through your circumstances and health history to see what's going on and what we can do about it. 
Importantly, denial here is not your friend! We will take great care of you, and if you feel uncomfortable about what your hair loss might mean, talk to us. We can help reassure you in terms of treatments, especially when we catch it early. You're in the best hands. 
ENRICH Clinic