The natural look is on-trend, with a lot of advice dished out on how to wear your hair and make-up, so you look like you fell out of bed that way. Of course, some people can pull that off, but for the rest of us, a little effort in enhancing the core elements of our natural beauty can go a long way. That is your skin, hair and nails – key indicators of health and part of what natural beauty is all about: being naturally healthy. 
Beautiful skin is the first critical component of natural beauty. Gorgeous skin will never go out of fashion, but being lucky enough to have skin that doesn't require touchups can be complicated. With some attention focused on a few specific areas, that needn't always be true. 
Instead of using makeup, perhaps some longer-lasting treatments would help you achieve the natural look, but using your actual features rather than using makeup to make it seem like you're not wearing any. So why not cut to the chase? 
How to get beautiful skin
There are many reasons why skin may not be looking its best, with many of these issues solvable with a bit of directed effort. Skin treatments at a cosmetic dermatology clinic like ENRICH Clinic are a perfect first step. We'll assess your skin and any concerns you have and develop a treatment plan. This treatment plan will guide you step by step to more beautiful skin. 
We have some solid basics that will give you an excellent foundation to work from on your quest.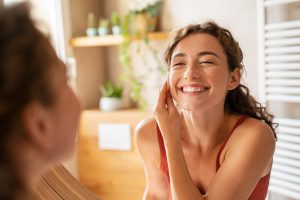 Chemical peels – great for beginners
A chemical peel is a treatment that can make a big difference and doesn't cost the earth. You'll clear off dead skin cells, stimulate collagen and elastin, and rejuvenate your complexion regularly. In addition, regular peels can help keep breakouts, blackheads and dull skin out of the picture while being part of an ongoing antiageing plan. 
Laser treatments – a staple for beauty enhancement
Laser skin treatments are one of our most popular and effective skin treatments. We have so many different lasers for every possible dermatological need; your skin will not be left wanting. 
Clear off dead skin cells, keep pores clear of debris and oil, even out skin tone, and work on your anti-ageing strategy with collagen production. 
Laser treatments for redness, rosacea
Flushing from rosacea is one of the quickest ways to go from feeling good about your bare face to wishing you could hide in a freezer until it passes. Whether you've been for a drink with a friend or got too hot, the flushing from rosacea can come on quickly and wreak havoc with your 'natural look'. 
We have a special laser at ENRICH Clinic in Melbourne called the Excel V, specially designed for blood vessel conditions. We love this laser for managing rosacea, facial redness, and visible veins because it works so well. 
The Excel V works by damaging the visible blood vessels to the point where the vessel is no longer viable and is absorbed by the body over the week until it is no longer visible, an extraordinary feat for a laser. These tiny blood vessels aren't necessary for healthy circulation, so they won't be missed. 
We can't cure rosacea, but we can manage the flushing to the point where you can feel confident that you won't look like you just ran a marathon – unless you've just run a marathon – taking you one step closer to feeling good about going au naturel.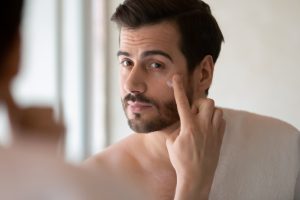 Skin resurfacing for pigmentation
Pigmentation, sunspots and liver spots can make you want to cover up with makeup. We can deal with these spots very quickly by fading them or completely removing them (depending on the location, size and depth) using laser resurfacing or other methods as appropriate. Don't forget, pigment has memory, so after one of these treatments, especially 50+ sunscreen, every day is a must. 
Freckles and moles are now coming into their own finally – we love your freckles and moles and think they're more than likely part of your natural beauty, but if you don't love them as we do, we're happy to soften their impact as per your wish. Also, there is a difference between cute freckles and age spots. 
We're also embracing the unique beauty of melasma and vitiligo. As with freckles and moles, not everyone is as enthusiastic, so if you want treatment, let us know, and we'll support you with treatments and management strategies. 
Dermal fillers around the eyes
If you're starting to notice the area around your eyes is looking a little tired even when you're feeling well-rested and energetic, we can help with some strategically placed dermal filler. Some filler in the tear troughs and areas under the eyes that cast shadows can make a subtle but important difference to your eye area. 
Don't rely on concealer and cucumber slices to get rid of under-eye bags – remove the cause of the shadows with dermal filler and see how you like it. Skin treatments and dermal fillers can even provide a natural-looking facelift. This treatment must be performed by a cosmetic doctor who has expertise in this area. At ENRICH Clinic, our cosmetic physicians are experts in dermal filler and antiwrinkle injections.  
Ultraformer for crepey skin
Moisturiser can only go so far as skin ages. Crepey skin can be boosted with Ultraformer treatments to tighten and freshen texture, plumping tissue with collagen and revitalised cells. Crepey skin does not need to interfere with your natural beauty. 
Getting handsy to turn back the clock
We use our hands for everything, and they deserve a standing ovation. But, they can start looking a little worn out sooner than the rest of us as a result. Hand skin is thin, with only bone, tendons and a little fat and muscle to round them out. This fat and muscle tend to fall away as we age, leaving stringy tendons and bones. 
Removing pigmented spots is a fantastic way to rejuvenate your hands, so they look a little younger-looking but are still as functional and fabulous as ever. IPL, laser, peels and fillers can all be used on hands to brighten and revitalise. 
Lip enhancements
Thin or uneven lips can impact how you feel about your mouth, including how openly you smile. Smiling is one way to enhance your natural beauty, so feeling great about your mouth is important. While we are not into teeth, we are very into lips. 
Lip filler is a fantastic way to give your mouth a sweet boost, an enhancement that we aim to be subtle and to fit in with your facial features. Don't worry; we won't give you a duckbill pout! Unless, of course, you ask for one. Natural-looking lip filler is an art form, and we've got it down pat. 
Where to from here – natural beauty enhancement
We will help you enhance your natural features, and you'll never look like you've 'had work done when you walk out of our clinic. Our goal is to accentuate what nature gave you and help you feel marvellous and fresh-faced. 
Get in touch, and we'll see what we can achieve together. 
ENRICH Clinic